3 Min Read • July 24, 2023
How to Close More Deals Without Hiring More People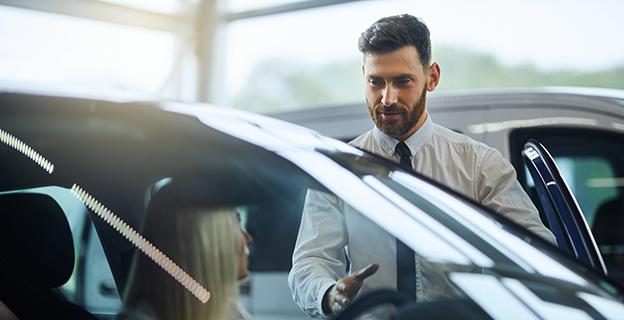 Need good salespeople? You're not alone. Hiring is a huge challenge for dealers across the country. Overall dealership headcount has fallen approximately 19% since before COVID-19 while sales representatives have fallen 35%, according to the CDK Global 2023 Friction Point Study.
Hiring challenges don't mean your deal count has to fall too. Digital retailing puts time and speed on your side to handle transactions more efficiently so you can do more with less people. The key is to use a digital solution in-store, not just on your website. According to CDK research, the 30% of dealers using an in-store platform for all deals are selling more in less time. Here's how you can do the same.
Ditch Paper for Tablets
It's time to move away from paper and start doing deals with tablets because that's how customers are using your website. This allows information to be seamlessly shared so there's no discrepancy between what a customer sees on their personal screen and what the sales representative sees on the dealership screen.
Ultimately, customers run their own deals according to your dealership parameters, while sales representatives answer questions and advise from afar. With this model, one sales representative can manage as many as 40 deals at one time and still provide a positive customer experience.
Automate Communications
To work on that many deals at one time, it's important to automate communications. The right digital solution will instantly send responses to internet leads with information to move the deal along. This can include video links to aid with the buying steps, walk-arounds of vehicles, F&I product brochures, you name it.
Each sales representative can preset responses. The CDK Global Retail Solution even includes the option to add Express Store Live where in-house automotive experts answer questions in real time over chat.
Speed In-Store Changes
When you're working with paper and a customer decides to switch vehicles midstream, you've got a problem. Especially if it's a busy Saturday and the line for the desking manager is three people deep. Your customer ends up waiting at least an additional 20 minutes, which doesn't help the experience.
A digital solution allows you to make vehicle changes in seconds. It's as simple as switching one VIN for another. Working side by side with one tablet, you can easily add options, calculate a new payment, even choose F&I products — all without waiting in line for the desking manager.
It pays to adopt solutions that cut the time a customer spends in-store. According to CDK research, satisfaction is only 77% if a shopper completes their purchase in one to two hours. If it takes three to four hours, that score drops 54%.
Realize Higher Per Vehicle Retail (PVR)
The best digital retailing solutions enable a sales representative to introduce personalized F&I recommendations to the customer and then the F&I manager takes over when finalizing the sale.
This hybrid approach of placing F&I product information at the top of the funnel is very effective because customers won't feel like the dealership is adding a bunch of cost to the deal at the very end of the process. This transparency resonates with customers who are more open to discussing products to protect their vehicle investments.
One dealer noted PVR was $300 higher on digital retailing deals than traditional deals. All without expanding his sales force or supervisor roles.
Learn more about how you can simplify the car buying experience here.