4 Min Read • March 17, 2022
Connected Vehicle Technology Awareness Can Change Customer Attitudes Toward Dealerships

Despite how widespread connected vehicle technology has already become, there's a lack of clear understanding about it by consumers — though they may not realize it. According to CDK Global research, 58% of car owners say they are aware of connected car technology overall, with 24% of this group claiming to have actually used it. However, the way they define the technology may suggest otherwise.
Some consumers show an informed grasp of connected technology, such as the ability to relay maintenance issues directly to the dealership. This appears to correspond with economic income and its correlating automotive brand, luxury-brand drivers topping the charts. Meanwhile, others mistakenly associate connected technology with automatic locks and self-driving vehicles.
When explaining it to your customers, connected technology can be grouped into three major areas:
Connectivity and appliance syncing — With the importance consumers place on their devices, it's key that they be able to connect through Wi-Fi and Bluetooth.
Navigation and location services — Nobody wants to get lost on the road or in a large parking lot; thanks to GPS and vehicle location and tracking, they won't.
Vehicle usage reports — Ensuring their vehicles' health has never been easier, because now their dealer can keep track remotely, down to the pressure of every tire.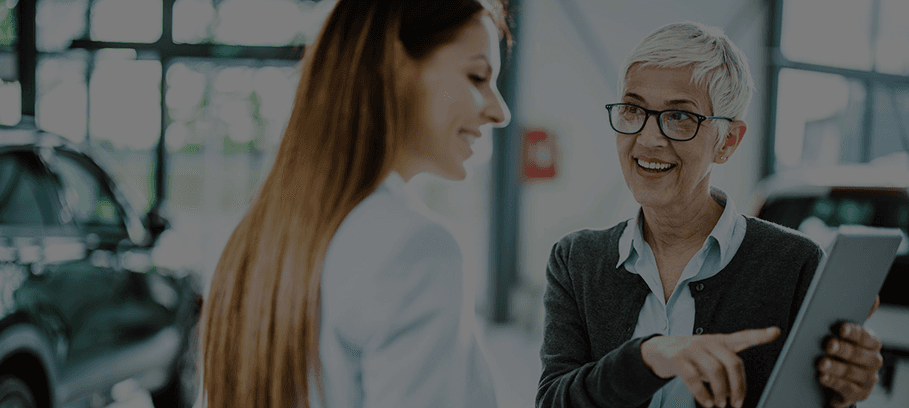 Regardless of how much consumers might already know about connected vehicle technology, those surveyed indicate a high degree of optimism about the subject: Among those who have driven a connected car (24% of those surveyed), 37% are excited to explore the technology further. And of those who are aware of connected technology (34% of those surveyed), 50% are interested in experiencing it for themselves.
Applying Consumer Perceptions to Dealer Service
What does this mean for dealerships? Examining how consumers believe connected technology will impact dealer Service provides us with some encouraging answers: 89% believe their experience will improve if connected car features are provided by their service provider. That's good news for dealers looking to attract Service customers.
Even more exciting is what our research says about the potential for dealers to win back consumers: 76% of shoppers who visit another provider for service say they would be willing to return to a dealership where connected car features were offered. This should send a clear message to dealership Service departments.

That's not to say there aren't obstacles to address. Consumers may associate the data transmission of connected vehicles with the data they try to protect on computers and other devices: 53% of those surveyed express concerns about data privacy, with 41% worrying primarily about "data falling into the wrong hands." At the same time, 37% of consumers are comfortable with OEMs having access to data regarding vehicle condition and service history, while 42% believe dealers should have access to this information — and see it as reflecting a level of trust between shoppers and dealers.
What Dealers Can Do Now
As we've seen above, consumers who own a connected vehicle show greater affinity for extending their relationship with dealers than those who aren't aware of this technology. As more OEMs roll out vehicles with connected capabilities, the number of shoppers with access to this technology will continue to climb. According to Statista, connectivity-based vehicle services are growing at a rate of about 21.3% per year. By 2023, these services are projected to reach nearly $2,258.6 million globally and serve a total of nearly 96 million connected cars.
We've also seen that many consumers are unclear on definitions and benefits of connected technology. That means the opportunity is now for dealers to generate not only better sales but aftersales affinity for their locations — simply by focusing on amplifying awareness.

Our research into the impact of connected vehicle technology on service has produced much more information than could be contained in this article. For more information, please read:
Our full findings and additional viewpoints can also be found in our e-book.
Sources:
Statista Vehicle and Road Traffic Statistics
Win Back and Keep Service Customers, a CDK research study of service shopper behavior
CDK Connected Vehicle Research Study

Product Marketing Manager
Kim Saylor is director of product marketing, Fixed Operations at CDK Global As director of product marketing for Fixed Operations, Kim Saylor is responsible for the research, launch and marketing of products to improve the efficiency and profitability of dealerships' Parts and Service departments. Kim currently lives in Florence, KY with her husband and two children. In her spare time, she enjoys running and is a lifelong fan of the Cincinnati Bengals.