5 Min Read • August 3, 2021
Vendor vs. Strategic Partner

As business operations have become increasingly complicated, there's no denying the importance of an effective dealership management system (DMS). But choosing a technology provider can be confusing — and the wrong choice can prove disastrous.
Much of the confusion comes from the difficulty in discerning between vendors and strategic partners. To illustrate the difference, let's examine a recent, real-world example.
Hurricane Laura disrupts a dealership
The event:
In late August of 2020, Hurricane Laura began as a tropical depression in the Atlantic Ocean near the U.S. Virgin Islands. Over the next several days, it intensified while damaging Puerto Rico, the Dominican Republic, Haiti and Cuba before striking the southwest Louisiana coast with the force of a category-four hurricane.
Extreme rainfall and winds up to 150 mph hit the U.S. and caused parts of Arkansas, Florida, Louisiana, Mississippi and Texas to declare a state of emergency. Along its path, the hurricane tore down power lines and affected numerous homes and businesses, including Granger Chevrolet in West Orange, Texas.
The damage:
Granger Chevrolet was relatively lucky — the hurricane had not caused it major structural damage. However, the dealership did lose connectivity to both its network routers as well as to the on-site adaptive security appliance (ASA) providing remote access to its DMS. As a result, the network was down, the DMS was inaccessible, nobody could communicate and business was at a standstill.
Different views of the same problem
What would be the difference if the dealership had purchased its DMS from a vendor versus a strategic partner? It helps to compare their perspectives side by side.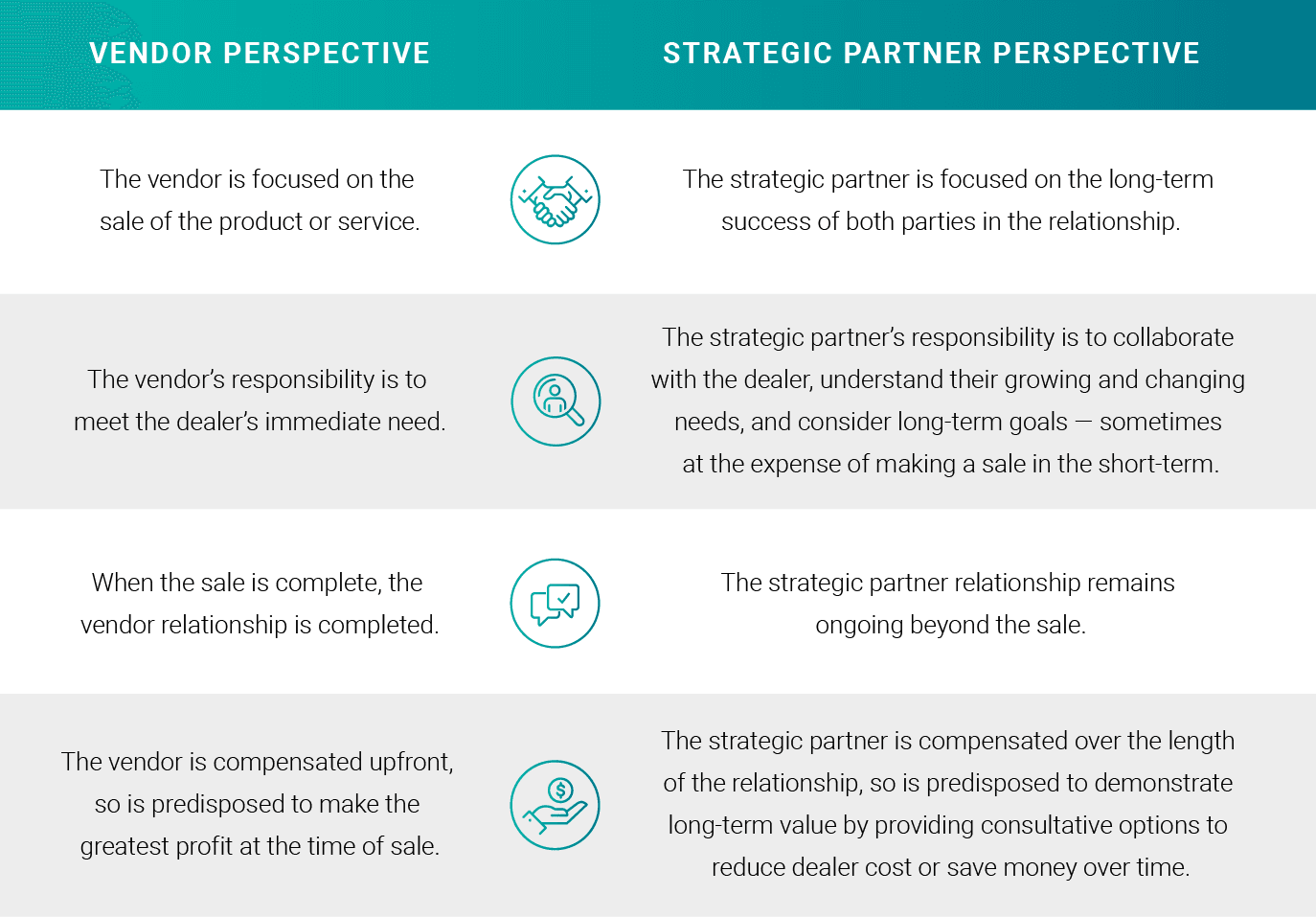 The results
Given the contrast in vendor and strategic partner perspectives, we can expect that the resultant business outcomes at Granger Chevrolet in the aftermath of Hurricane Laura would have differed dramatically:
Had Granger Chevrolet's network and DMS been provided by a vendor, it's doubtful the vendor would have felt an obligation to do anything further — the vendor's equipment or service was not at fault; they had fulfilled the terms of the contract and the dealer's connectivity issue would fall outside the vendor's responsibility.
A vendor may have seen this as an opportunity to sell replacement products or additional services. Meanwhile, Granger would have had to wait for power and internet service to be restored before they could resume business. In hurricane-torn West Orange, Texas, that wait would have cost them more than a week of lost business.
Since Granger Chevrolet's technology came from strategic partner CDK Global, the focus was on immediate help and investment in the long-term relationship. CDK quickly configured a temporary HRAS account for secure direct connection to CDK's data center. This successfully restored Granger's access to its DMS so operations didn't have to wait a week or even a full day to resume. They were back up and running in about one hour.
More than just hurricane protection
Even if your dealership is never hit by a category-four hurricane, other scenarios can bring out additional differences between vendors and strategic partners: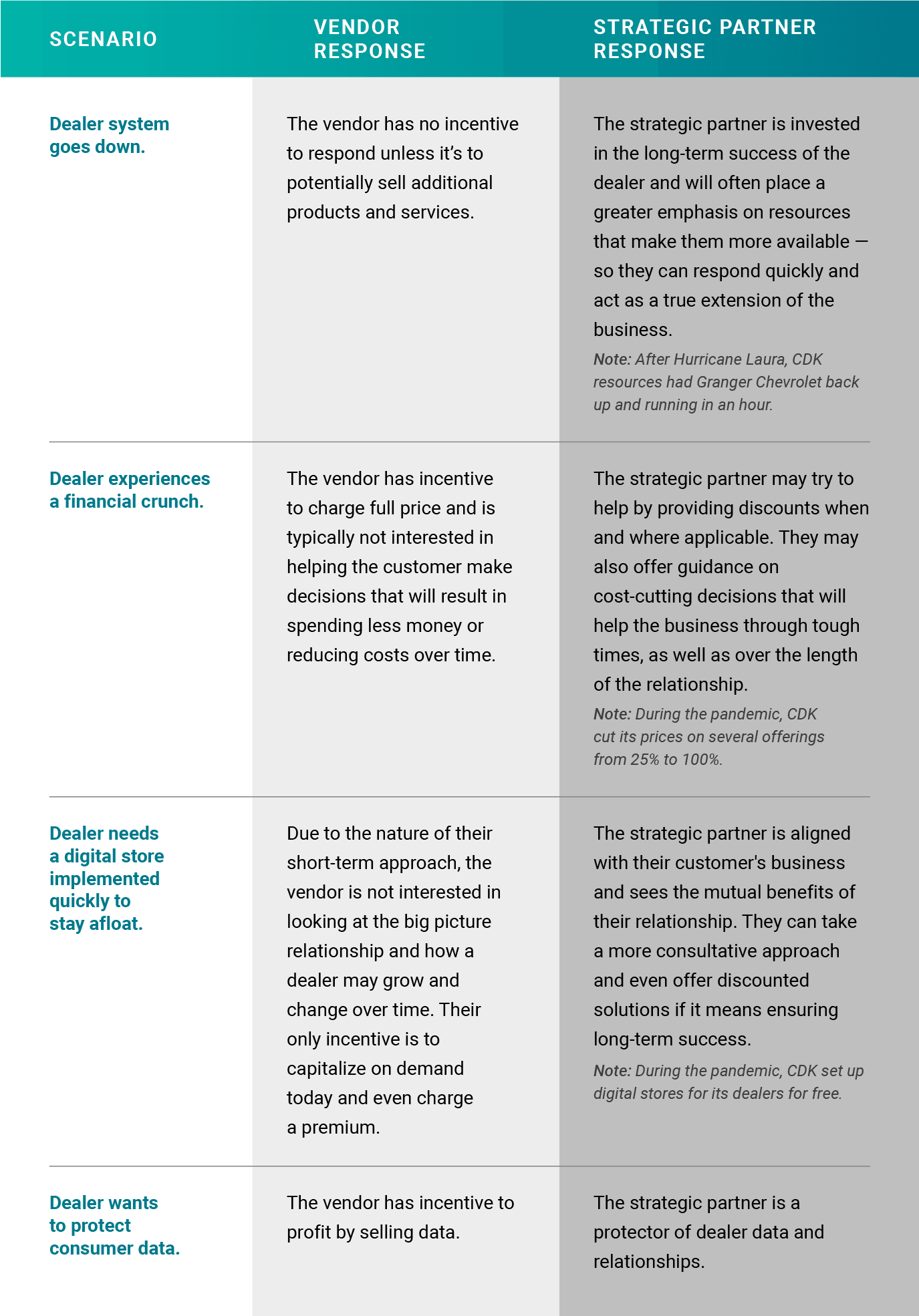 How can you tell if your supplier is a vendor or a strategic partner?
Consider how they stack up against these questions:
Are they "in it for the minute" or are they willing to withstand the ups and downs associated with a long-term relationship — seeing the overall benefit and not just the immediate win?
Do they have the history and industry experience to provide the resources and knowledge necessary for extended success, especially when the chips are down?
Are they truly and proactively aligned with your business, and act as an extension of your dealership committed to a shared vision?
Are they an open company that builds the type of trust that only comes with true transparency (sharing information, listening)?
Do they have the expertise to guide you through the disruptors to the auto industry such as electric vehicles, online retailing, and the changing relationship between dealer and customer as well as between dealer and supplier?
Can they lean in on behalf of the dealer regarding new regulations and policies, and keep their eyes on the road ahead so you're free to focus on your customers?
Seeing the bigger picture
Consider how they stack up against these questions: One more factor that separates the vendor from the strategic partner is a broader perspective of the industry. This benefits the dealer because while the vendor is limited to selling their own brand of solutions and services, the strategic partner can look beyond its own offerings to survey the landscape before identifying exactly the right solution.
CDK may even surpass other strategic partners in this regard — it not only surveys the landscape, but is itself moving toward open and universal platforms and solutions through the support and development of:
Elead, the most highly awarded CRM in the industry
Roadster, the best-in-class automotive digital sales platform
Fortellis, the industry's first open marketplace for apps and APIs
In addition to helping CDK provide dealers with greater freedom and flexibility, this open and universal technology does one thing more: it is an investment in the automotive retail industry that will strengthen, unify and empower every member to serve our consumers better.
LEARN ABOUT THE DMS BUILT FOR THE LONG TERM
As a strategic partner, we're committed to moving you forward. That includes powering your dealership with the most complete DMS in the industry. See what CDK Drive can do for you.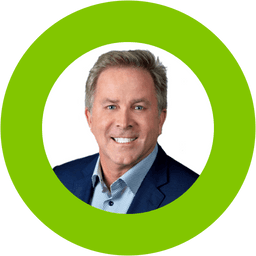 Executive Vice President
Scott Herbers, executive vice president at CDK Global responsible for sales and customer success, has more than two decades of automotive retail technology experience. Scott and his team spend their days partnering with dealers and OEMs to identify and implement innovative software solutions, while providing insights and strategic counsel to help drive profitability, growth and a frictionless consumer experience.