3 Min Read • March 7, 2023
Huge Rebound in Available Inventory Makes It Easier on Car Buyers

The phrase "what goes up must come down" was flipped on its head in February. A boost in new car inventory led to shoppers finding what they wanted in stock, with less need to visit more dealerships. These factors led our overall Ease of Purchase score to increase to 85%. This is the second highest score since we've began the monthly survey in July 2022, when the number was 88%. In nearly all respects, this was a complete reversal to the downward trends we saw last month.
While the seasonally adjusted annual rate of sales (SAAR) is likely to fall to the 14 million range from 16.2 million in January, it was still a robust month for many automakers. Kia and Genesis both posted records in terms of February sales.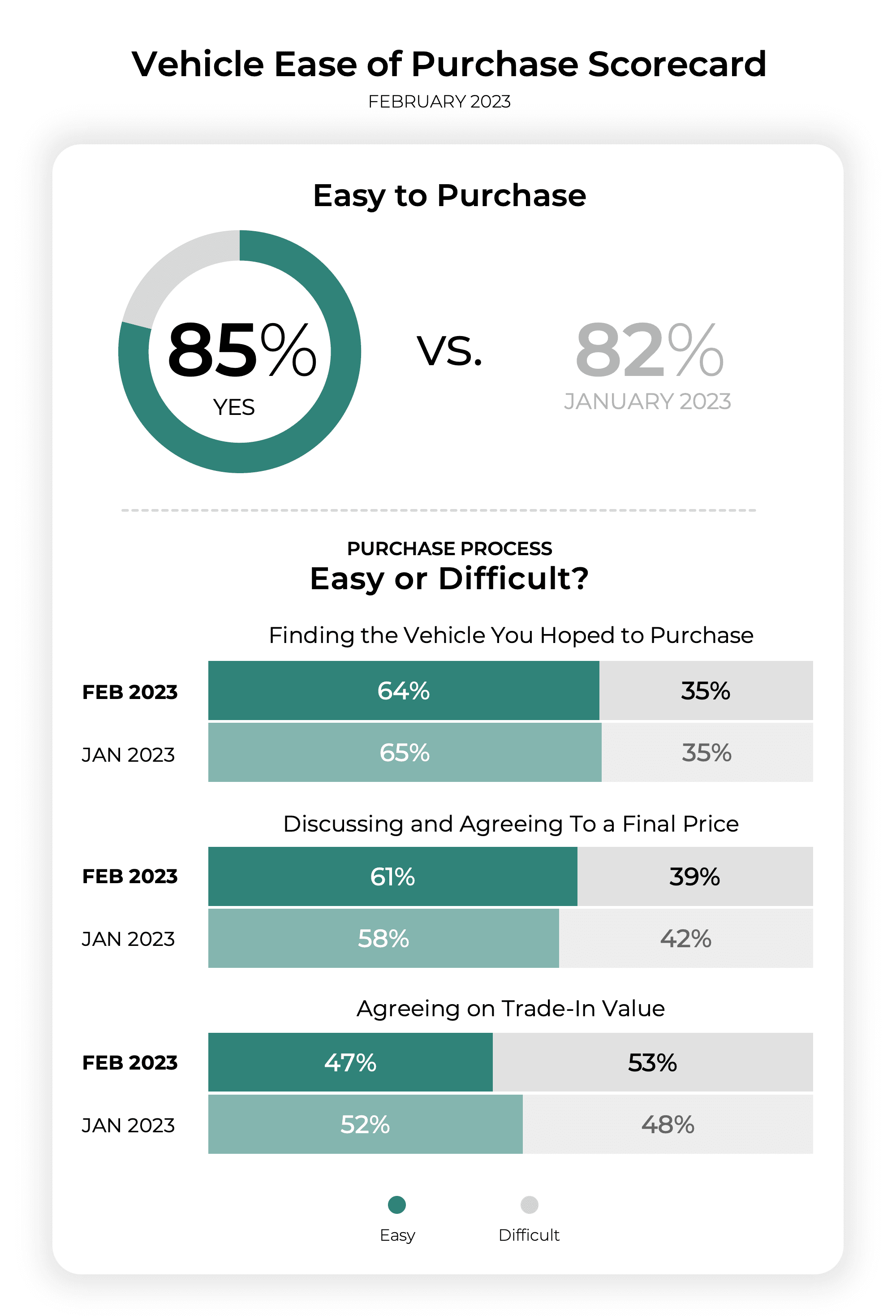 The number of shoppers who only needed to visit one store rose from 28% in January to 44% in February, another record. This is likely due to the fact that 52% of shoppers found the vehicle they wanted in stock, which was up from 36% in January. And while fewer people needed to order what they wanted from the factory or choose a vehicle in transit, the number of shoppers who selected an alternative to the original vehicle they wanted increased slightly from 9% to 10%. While it's not a significant number, it may reinforce the idea that buyers were eager to bring a car home.
The trickle-down impact in locating vehicles in stock also led to a dramatic shift in how much time shoppers thought they were spending at the dealership. The number of people who felt like they spent more time at the dealership than they expected fell from 42% to 34%, with 51% saying that it was what they expected. A healthy 16% said it took less time than expected.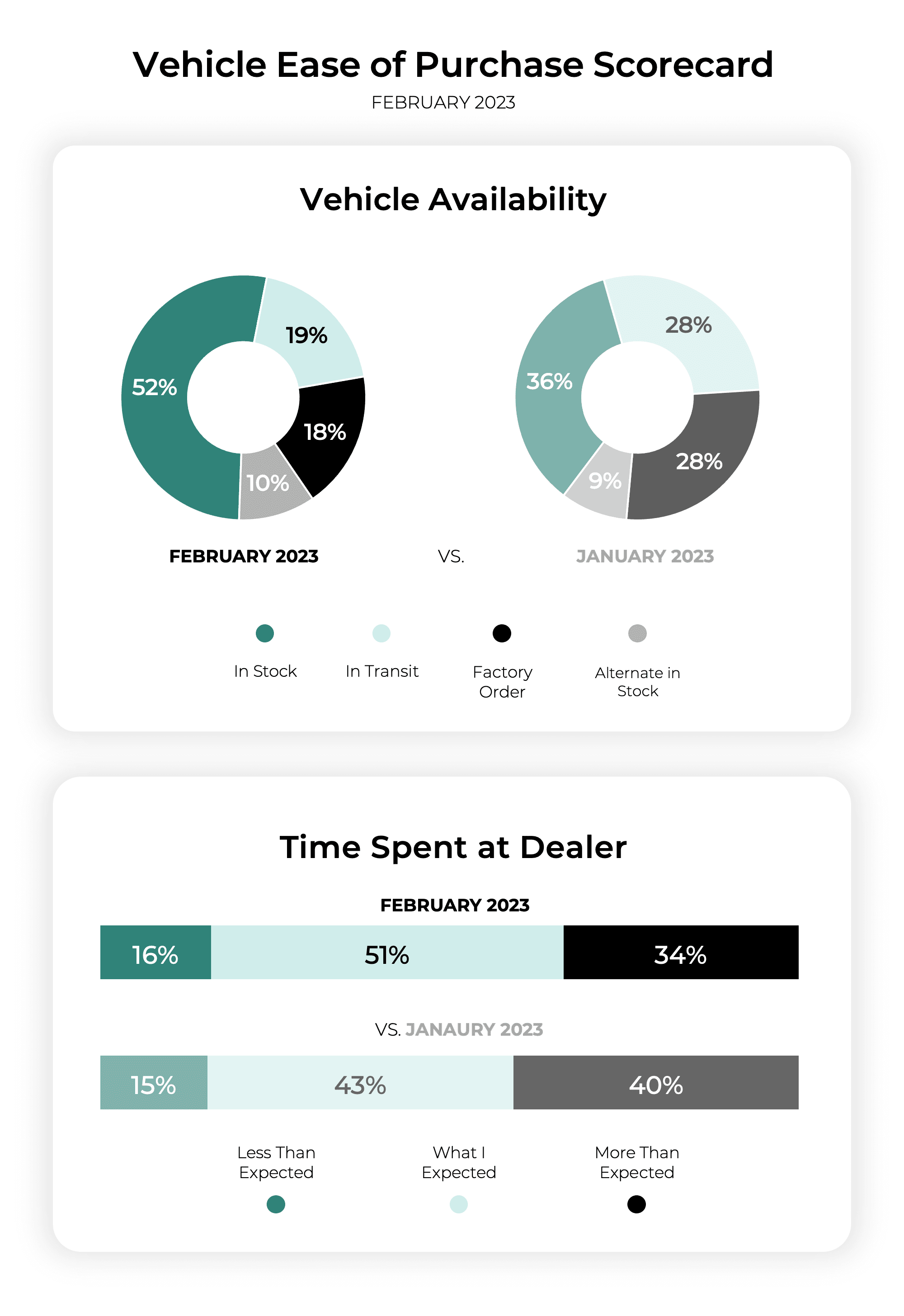 Several steps in the purchase process also saw improvements over January. One noticeable exception was the number of people who thought agreeing to a value for their trade-in was easy. That number fell from 52% who thought that step was easy to just 47% in February. The volatile used car market is clearly making it difficult for customers and dealer staff to settle on a trade-in price that meets both expectations.
There was also a small uptick in people saying agreeing to the final price of the car itself was easy — up from 58% in January to 61% in February. Several of the survey respondents we spoke to called out this part of the process as well. A number of buyers pointed to negotiating the price before ever coming into the dealership, and a few mentioned discounts motivating them and impacting how they felt about the process.
The industry may be a long way from any sort of normalcy, but seeing these scores directly relating to finding cars in stock is a clear indicator that shoppers still want to see cars at the dealership.
The Ease of Purchase Scorecard is a monthly gauge of approximately 350 new car shoppers conducted by the CDK Global research team.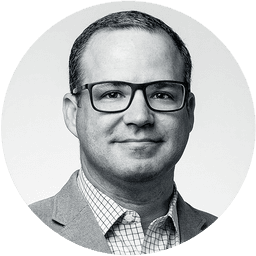 Director, Content
David Thomas is director of content marketing and automotive industry analyst at CDK Global. He champions thought leadership across all platforms, connecting CDK's vast expertise to the broader market and trends driving our industry forward. David has spent nearly 20 years in the automotive world as a product evaluator, journalist and marketer for brands like Autoblog, Cars.com, Nissan and Harley-Davidson.