3 Min Read • August 21, 2023
How an Automotive CRM Can Enhance the Customer Experience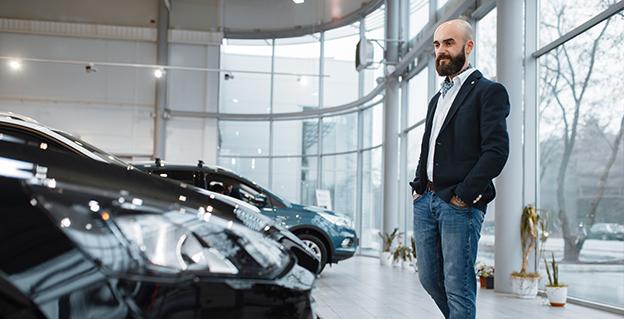 The journey to purchase a car is ever evolving, and the spotlight is shining bright on customer experience. Believe it or not, consumers and auto dealers want the same thing: a more efficient and seamless car buying process. In fact, 88% of customers say the experience a dealer provides is as important as its products and services. The days of tolerating a disconnected journey in the car buying experience are winding down fast.
So, what can dealers do to drive a better customer experience and overall connected journey? The key is building and maintaining better customer engagement.
Create a Connected Journey for the Customer
The more consistent and engaging the dealership staff can be with the customer through the process, the more valued the customer will feel and the more positive the overall experience will be for them. Customers have become savvier because they're experiencing digitization in their everyday lives, and these enhanced experiences are what they're expecting when they look to buy a new car. A connected journey allows for a strong engagement right from the start.
For example, we know that 80% or more of consumers today now begin their journey through online channels. Offering consumers a way to start the sales transaction process online provides them the flexibility they need, and integrating that digital retail experience into the showroom provides that enhanced experience they want while giving the dealership visibility throughout the journey.
But the connected journey isn't isolated to just online. A connected journey means that all your systems are working hand in hand and customer engagement is captured throughout the whole process. To support those interactions, a central hub that houses that data and the customer life cycle is key.
The central repository that holds customer engagements is a solution that dealers are very familiar with and that's the Customer Relationship Management system (CRM). Your CRM is the most powerful solution your dealership has for customer engagement. When it comes to creating a connected journey, automotive CRM Software is the backbone that houses all your customer data that informs a customer story and buying journey.
Integrate Your Automotive CRM to Boost Customer Engagement and Retention
Ensure that your CRM is integrated throughout the whole process so dealers can put the consumer first and really leverage all the data that's inside. This enables dealers to provide those personalized and knowledgeable customer engagements. Dealers know the importance of capturing online leads that come through their dealership, which is why there has been such an investment in digital retail solutions, but that's just one piece of the puzzle. v If your CRM doesn't fully integrate with your digital retail platform or the rest of the systems in your dealership, the consumer is bound to have a frustrating, disjointed experience that could cause you to miss out on a deal and future business. The CRM is the most effective tool to identify and manage opportunities.
Dealerships that use a CRM have a 27% increase in customer retention. Customers want to feel valued and known on a personal level, so personalized communications, whether it be in person or online, allow the consumer to feel valued. To really meet the customer where they are, you must have consistent engagement and drive with a seamless, positive experience from start to finish.
A connected journey is a powerful way that dealerships can provide an exceptional and successful customer experience. By utilizing your CRM, the central hub for customer engagements, and ensuring all your solutions are integrated, dealerships can provide a seamless and personalized experience that promotes customer loyalty and boosts sales.
Adopting a connected journey is an investment in the future of your dealership and will set the foundation for growth, giving you a leg up on your competition.
Click here to learn how CDK Modern Retail can deliver a connected customer experience.