1 Min Read • October 31, 2023
EV Service: Today and Tomorrow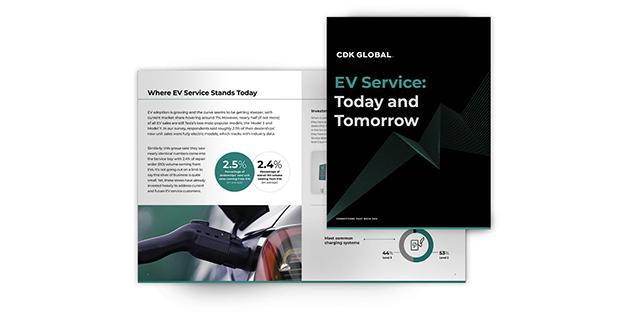 As the automotive industry moves to an all-electric future, the race is on to staff up and stack up EV-capable service operations to meet growing consumer needs and expectations. Service managers are and have been concerned about staffing shortages and retention for years. Today, training existing technicians to support the coming wave of EV maintenance and repairs is also top of mind for everyone in the service bays.
Yet, little has been uncovered about what dealerships are already doing and how they're planning for the transition to EV service. That's why CDK Global interviewed service and dealership leaders for the EV Service: Today and Tomorrow white paper. In it, we reveal the trends around this technology and its impact on the Service department, especially for store leadership.
This white paper highlights how many dealers are EV-ready today, the looming training and staffing obstacles, data that spells out what dealers need to focus on before the EV repair orders start stacking up and whether dealers are excited about what EV means for their business.