3 Min Read • September 5, 2023
Buying a Car Gets Only Slightly Easier in August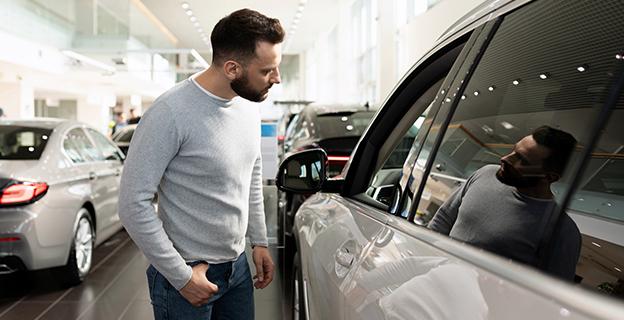 July saw some of the biggest drops ever in our monthly Ease of Purchase Survey. Buyers were frustrated across the board as only 79% said it was, in fact, easy to buy a new car. In August, some parts of the process saw improvement, and the primary score ticked back up to 82% but there were several areas of concern as the U.S. emerges from a summer season marked by sizzling temperatures and a cooling job market.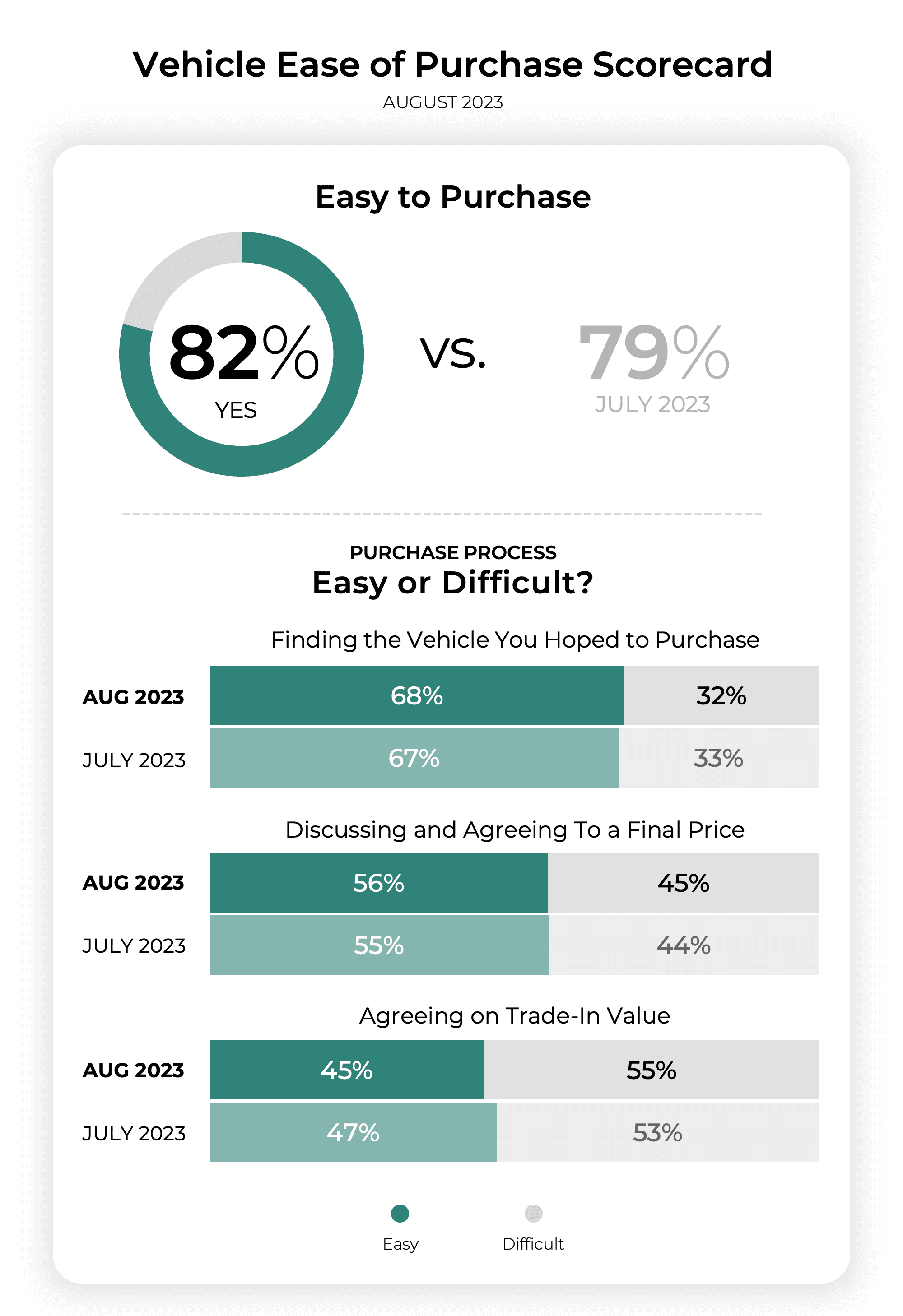 One thing that's become clear with each month's numbers is that car buyers enjoy price and trade-in value negotiations far, far less than any other part of the process. This is likely no surprise but in August, the number of buyers who found trade-in value negotiations easy fell, even from last month's 47% to 45%, a new record low since our survey launched in July 2022.
With dealers having a hard time finding used inventory, it might be assumed the value buyers are getting for their trade-in would be higher than other points in the past year. However, consumers are becoming savvier to the market and could be expecting too high a figure. This will be an interesting area to track as the used market continues to see upheaval and dealers ramp up their acquisition efforts again.
Negotiating the final price of the deal has also been a sorer spot than in the past, likely due to rising interest rates. Last month, only 55% of buyers said agreeing to the final price was easy, the second worst score we've seen since conducting the study, with 60% being the average over time. August saw a small increase to 56%, showing that not much has changed in buyers' thinking when looking at the bottom line.
Applying for credit also remained cumbersome, with the number of buyers saying it was easy, moving up slightly from 57% in July to 58% in August. But this is still off the norms of the past 14 months in the low 60% range, suggesting folks still aren't used to the tightest credit market in years.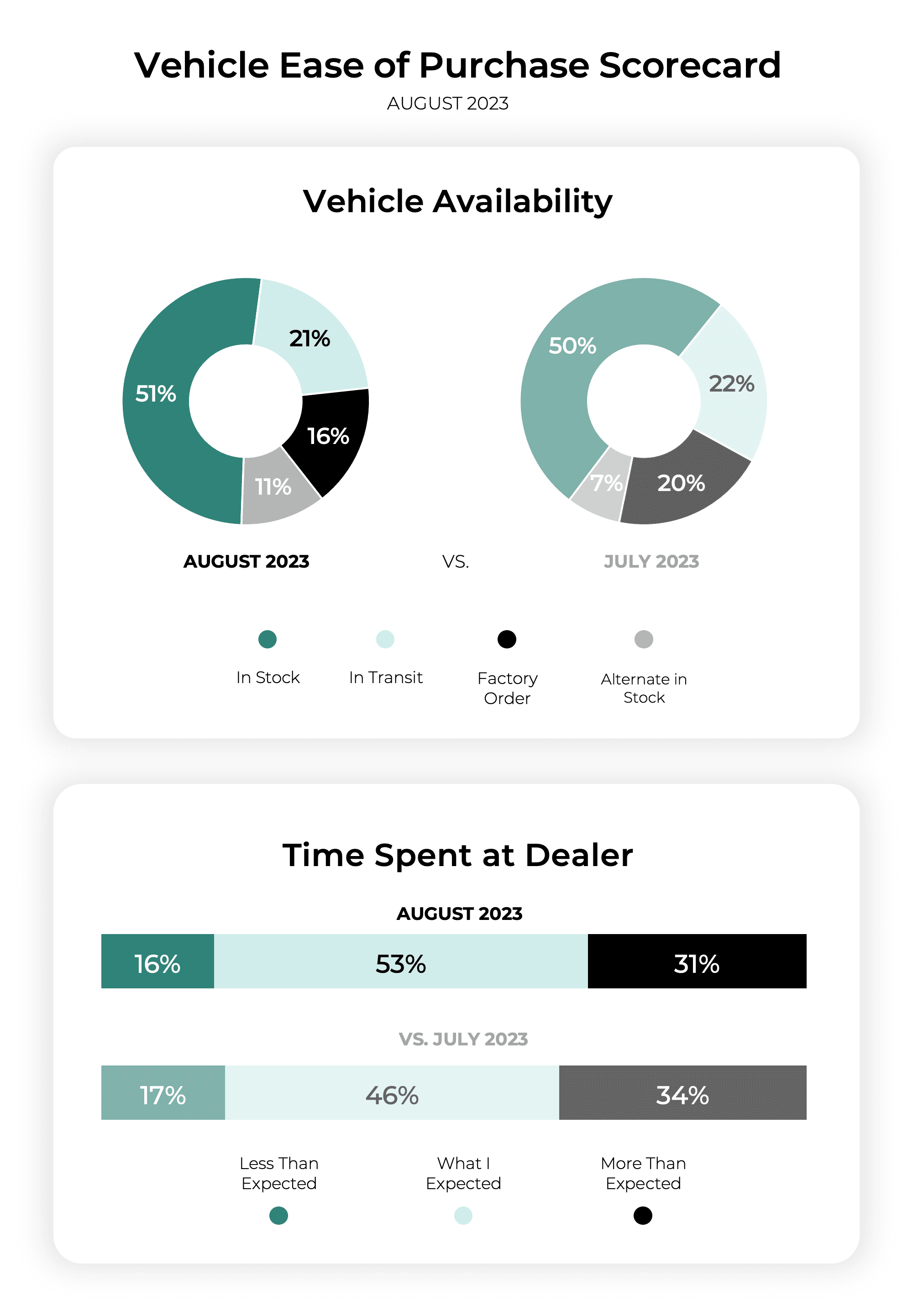 One statistic we're seeing return close to its highest level is the number of buyers who found the car they wanted in stock at the dealer, up to 51% in August from 50% last month and right behind the 52% record we saw in February. This is a direct result of car lot inventory availability as automakers return to a normal rate of production.
Plenty of people were still buying cars in transit to the dealer, 21%, but the number ordering from the factory fell to its lowest ever in our survey at 16%. This, too, is likely due to the rise in new car inventory, and we also found 11% of buyers selecting an alternative vehicle in stock to the one they originally wanted. That is also near the high of 12% from August 2022.
Another positive sign this August was the number of buyers who said the car buying process took longer than they expected, falling from 38% to 31%, a large drop and one of the lowest numbers we've seen. This caused nearly an identical swing to the group of people who said the time it took was what they expected, up from 46% in July to 53% in August, which, once again, is also high.
This market is likely to see new car inventory levels, used car pressures, and restrictive credit from recent months persisting for the rest of 2023. During this time, dealers need to focus on the financial side of the buying process and what's upsetting customers more than in the past.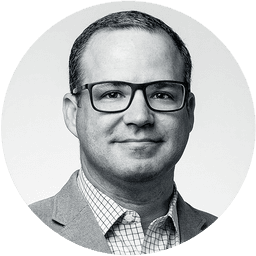 Director, Content
David Thomas is director of content marketing and automotive industry analyst at CDK Global. He champions thought leadership across all platforms, connecting CDK's vast expertise to the broader market and trends driving our industry forward. David has spent nearly 20 years in the automotive world as a product evaluator, journalist and marketer for brands like Autoblog, Cars.com, Nissan and Harley-Davidson.