5 Min Read • October 18, 2022
Building Dealership Trust With Gen Z Customers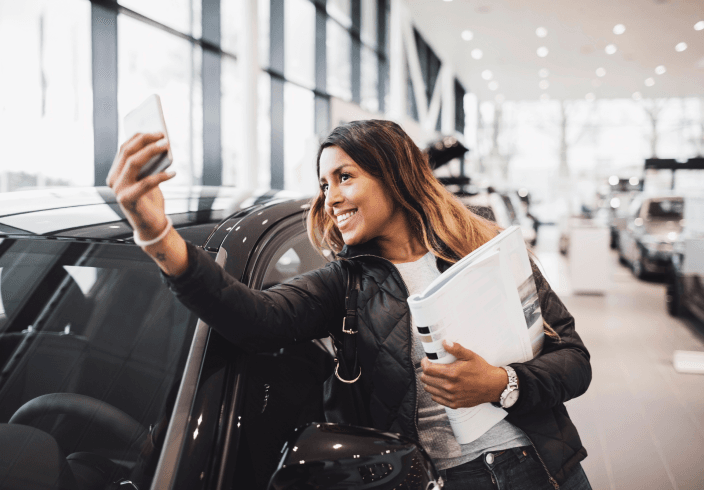 Boomers, Gen X, Millennials, Gen Z and now Gen Alpha. Each age group is marked by its attitudes, its beliefs and its habits. Some reputations are richly deserved, others are assumptions based on little or no actual information. Currently aging into their first car purchase, Gen Z, born between 1997 and 2012, have been profiled as seekers of instant gratification, seamless online purchasing power and real-time social media engagement. However, when it comes to buying a vehicle, a recent study by CDK Global of Gen Z buyers tells a completely different story.
CDK asked more than 1,100 shoppers of all ages about their recent car-buying transactions. Responses from Gen Z buyers revealed they spend more time considering their purchase than previous generations, and they were the group least likely to recommend the dealership they used. The key takeaway is that for Gen Z, experiences matter.
…young students and professionals in this group
command $360 billion in disposable income.
According to a recent Bloomberg report, the young students and professionals in Gen Z command $360 billion in disposable income. It's good business to see these insights to gauge what these emerging customers want and influence how your dealership is seen by future generations.
Here are four ways to help your dealership create the optimum Gen Z shopping and buying experience.
Gen Zers have questions, and they want clear and credible answers from their online searches and dealership representatives. Make sure your BDC agents and your Sales team answer all questions patiently and honestly before even suggesting an on-site appointment. These are customers who want to buy a car rather than be sold one.
Employees need to be knowledgeable about your vehicles (including current inventory) and your sales process. An effective way to start a relationship is by answering detailed questions through the buyer's preferred channels. You'll also want to audit your website. Easy to navigate vehicle detail pages (VDPs) and 360 walk-around videos are recommended, but an explanation of taxes and fees is essential. The more engaging information you can provide the better.
Of the Gen Zers surveyed, a majority were first-time buyers who found it more difficult to buy a car online than any other generation. The complexity of the process likely took them by surprise with a dizzying number of choices for accessories, service packages, finance options and insurance coverage. Successful dealerships can make these decisions simpler and easier by creating a seamless online to in-store process. Make sure your digital retailing tools are integrated with your CRM, so all the work a customer does online will flow directly into your store and into the hands of your salespeople.
Once a potential customer comes into the store, the people working the deal need to use the same desking calculations used on your website. Make sure the payment calculation on your digital retailing tool and in-store desking tool shows the same payment and deal points. This alignment is the foundation for trust and opens the opportunity for the customer and the salesperson to work through the details together. It should be the benchmark for everyone who walks into the showroom, but it's a critical step for Gen Z buyers.
Nobody wants to get to the end of any deal and see that costs have risen in unexpected places. Posting a comprehensive list of fees on your website creates transparency and gives salespeople and BDC agents a way to educate customers on what to expect. Your experts' information will often be compared with inaccurate information provided by calculators on marketplace sites. They should be prepared to explain why generic calculators are often off by hundreds of dollars, including the 'why' of dealership-specific fees and the 'what' of up-to-date tax information.
During communications, your people will want to emphasize that your dealership's website is really the best place to get accurate information in order to make the best decision possible. Remember: Gen Zers like to do research, and moving them off marketplace calculators and onto your site will provide them with clear and consistent numbers while eliminating outside noise.
Not much different than most customers, almost half of the Gen Zers surveyed cited waiting for a salesperson as the most frustrating part of their car-buying experience. Using technology more effectively can help cut extended wait times. Knowing what a customer has done online before they walk into the store is also helpful. When salespeople use your CRM mobile app instead of running back and forth to the desk, their customers won't be left alone anxiously wondering what's going on.
Another effective way to cut frustrating wait times is the one-person touchpoint model where a single salesperson handles the transaction from start to finish. If your dealership isn't quite ready for this level of a change, look at your waterfall process and pinpoint areas where you can improve, especially when information needs to be transferred from one salesperson to another. Gen Z customers are time sensitive and won't appreciate having to repeat relevant details whenever they're faced with a new face.
Changing the Game
You can win sales and loyalty from Gen Zers if you listen and meet them where they are. They're really good communicators who'll tell you what they want. Making the right connections today with Gen Z buyers paves the way for long-term Sales and Service relationships and prepares you for when the next generation comes along.