5 Min Read • November 7, 2022
3 Lead Follow-Up Strategies To Win Today's Sales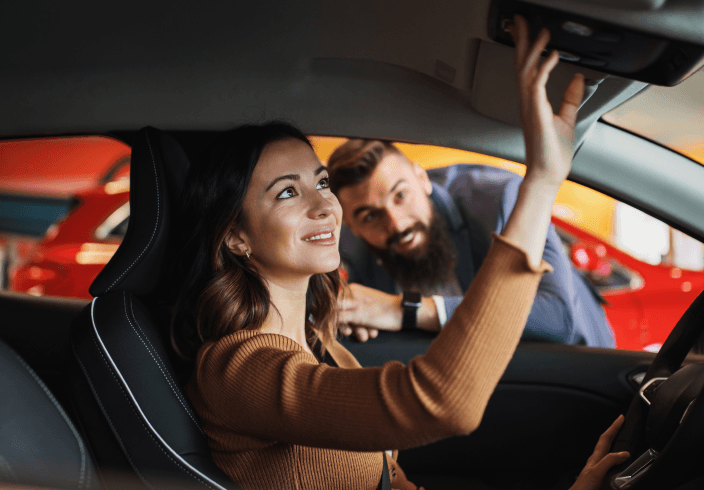 Drive More Sales With a Better CRM
These have been exceptional times for retail auto sales — customers lining up to buy vehicles before they hit the lot and dealerships juggling stacks of new car orders in dizzying numbers. Selling has been relatively easy, but all good things end and a competitive market is right around the corner. Economic uncertainty, record prices, higher interest rates, historically low incentives and fears of a recession mean dealers are going to need to try harder.
Harvard Business Review conducted a study indicating
companies responding to a lead within the first hour
are 7x more likely to qualify that lead.
Even a delay of just an hour may mean losing the sale. Dealers with robust and rapid lead follow-up build successful customer relationships and give themselves a distinct advantage. Fast, personalized responses combined with proper messaging are key to winning sales in a tightening market.
A better response strategy starts with an audit of your current CRM triggers. Once you have a clear picture, you can adapt them to quickly move more customers down the sales funnel and onto the lot. If you find that your CRM support team is not responsive to your needs, most systems have easy-to-learn, time-saving DIY capabilities. Getting in the driver's seat can save time and allow you to quickly react when things change. We've singled out three of the most common lead types with suggested CRM triggers and messaging suggestions that'll make a big difference.
1. Walk-On Showroom Leads
Most potential buyers who walk onto the showroom floor have done their homework and are ready for test drives. Once you make a sale, your Service Manager should introduce themselves to buyers before vehicle delivery and offer regular service reminders via the customer's preferred communication channel. Scheduling a maintenance check and first oil change appointment at 3,000-5,000 miles, for example, is a great way to build an ongoing relationship.
Customers who don't buy may require more regular and personalized communications to complete the sale. Set up a CRM trigger for your Salesperson to call 48-72 hours after the test drive. Stress to your team the importance of keeping detailed notes on any contact in the CRM. If the customer agrees to receive text messaging, keep in touch with reminders and updates over the next month. After a maximum of five emails/texts or seven calls within 30 days of the test drive, it's time for your BDC to step in to manage long-term communications.
Tracking down appointment no-shows can be tricky, but it's good to find out if the customer is still interested. Best practice is waiting 5-10 minutes past the appointment time then sending a quick reminder text. If you don't get a response after 30 minutes, try calling. If there's still no response, follow-up with a short text and a scheduling link — it just might get them to set and show for another appointment.
2. Cold Phone Inquiries
Thanks in part to click-to-call buttons, increased incoming cold calls to dealerships make phone skills training a critical area to upgrade. Emphasize that most callers will be aware of vehicle scarcity, supply chain issues and chip shortages. Make sure your team is completely transparent about what vehicles are available and what options a buyer may have. Avoid pushing for an appointment and alienating the very people you want to bring into your showroom.
Give your Salespeople talking points about the shortage and how your store can reserve a vehicle in transit or order an in-demand vehicle. Being knowledgeable experts will impress the caller and create the trust and respect you need to be their go-to dealership. After the initial discussion, sending an e-brochure with vehicle information and details of the ordering process is an excellent next step.
Once a vehicle has been ordered, set regular vehicle status communication triggers in the CRM. Find out a customer's preference for email or text and send a check-in message two weeks after receiving their deposit. Schedule the frequency according to your dealership's preferences, but it's typical to set updates for the 30-day mark, when the vehicle is in transit and to schedule vehicle delivery.
Other useful CRM triggers can remind your Salespeople to reach out to hesitant potential buyers with ordering help or suggesting other vehicles of interest. The bottom line — Keep the lines of communication open. Consider a weekly check-in text or email for four weeks, then turn the lead over to your BDC for long-term follow-up.
3. Dealership Website Leads
A modern, up-to-date, dynamic website will highlight inventory on hand and include:

In-demand vehicles available for ordering, with VIN-less VDPs and all the features and images
In-transit vehicles, available to reserve with a deposit
Making these distinctions perfectly clear online saves customers from making unnecessary trips to the dealership and saves Salespeople from embarrassing conversations. Responses to these leads should be based on whether the vehicle is on the lot, in demand or in transit.
Your CRM should trigger an email explaining the ordering process, what to expect in terms of the timeline, and required deposit after every inquiry.
Any inquiry about an in-transit vehicle should receive an email explaining when the vehicle is expected to hit the floor and any specific deposit requirements.
Your team can use your standard follow-up procedure for any inquiries about vehicles currently in-stock. This is a great way to bring people into the showroom by suggesting a test drive to avoid losing the vehicle of their choice. When inventory is in such short supply, customers will appreciate the advice.
Cautions and Capabilities
Avoid automated replies to leads whenever possible. Personalized replies work much better, especially when they are sent quickly with relevant information based on the inquiry.
Be clear about what you can deliver and when. Gone are the days when a customer will come to the lot and can be persuaded to buy whatever you have.
Communication preferences must be respected, and the frequency must be appropriate rather than annoying. There's a fine line between, "thanks for getting in touch," and, "please don't call me again."
Changes in the market are already here. Don't miss the great opportunities these lead follow-up strategies offer. By honing your CRM triggers, your responses can be faster, more personalized and more relevant. Winning more sales and increased customer loyalty will soon follow.