1 Min Read • May 30, 2023
The 2023 Trendsetter's Guide to Automotive Retail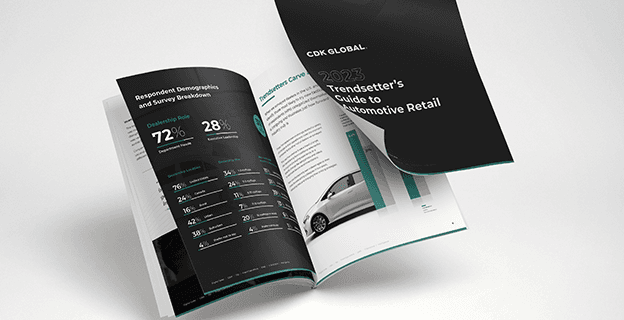 If there's one constant in the automotive retail industry, it's that there's always an unknown lurking around the corner. And unfortunately, it's never the same unknown rearing its head. Yet car dealers have persevered — and thrived — despite these repeated challenges.
The 2023 Trendsetter's Guide to Automotive Retail looks at obstacles that were encountered last year, which have become more or less of a focus for dealers like inventory and staffing, and it takes on one that wasn't on the radar: the rapid rise in interest rates.
How would this impact on affordability change operations, sales and more at the dealer level? Questions about inflation and recession fears were also added to address economic concerns that have been hanging over every part of the economy for many months.
CDK Global investigated these issues and many others through the lens of the Trendsetter. These are self-identified respondents across all departments — as well as top store leaders — who are the first to implement change.
This report identifies areas that Trendsetters say they'll retain plus those that produce positive operational and financial outcomes. It also dives into technology's impact today and the challenges that dealers admit they simply aren't prepared for in the next year.