1 Min Read • September 25, 2023
2023 State of Cybersecurity in the Dealership Study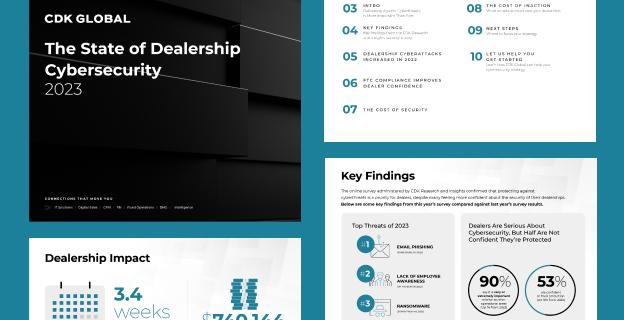 Hack is a four-letter word for a good reason and why dealerships are on high alert now, more than ever, to protect their digital operations from cybercriminals. Don't think it'll happen to you? Stats on dealership cyberattacks over the last year might change your mind.
For this 2023 State of the Cybersecurity e-book, we compiled data from dealership personnel and market research based on a recent survey conducted by CDK Global.
You'll learn how dealers, who participated in our study, are combating cyberthreats across their networks and evaluating their security. Key findings include the top threats of 2023, how serious dealers are about cybersecurity as well as data on increased dealership cyberattacks and consequences last year.
FTC compliance updates, security costs plus a 3-step plan to defending your network are also included in the e-book.
From client/user data and phishing scams to malware and password protection, dealers are facing multilevel threats to their digital operations and security that are evolving at warp speed. Every dealership is a target and all need to make cyber protection a business priority.